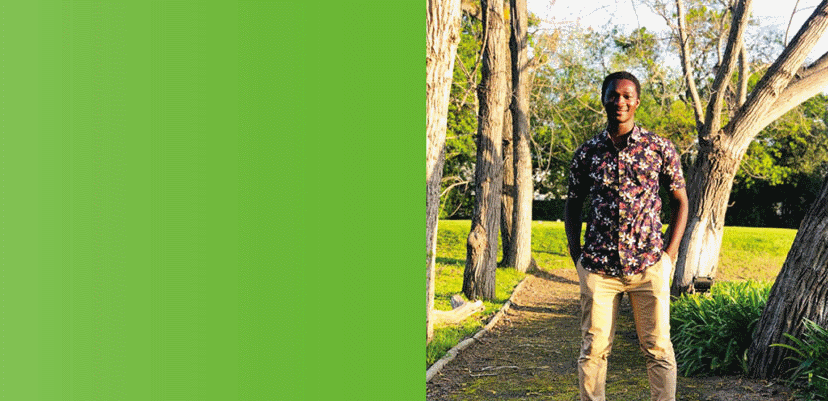 "I have always been fascinated and inquisitive about how machines work. Growing up, Mechanical Engineering was the only aspect of engineering that made sense to me, because the techniques are physical," says Nurayn Tiamiyu, MEng graduate at the Faculty of Engineering.
Mr Tiamiyu, a Nigerian citizen, explains why he selected Stellenbosch University for his postgraduate studies: "After working for a few years after completing my undergraduate degree, I decided to do a postgraduate degree, because I wanted to acquire more engineering knowledge that will help propel me in my career. The Engineering Faculty at Stellenbosch University is highly revered across the African continent and I believed it was the best place to undergo my postgraduate training and research. A good friend of mine, Dr Tobi Fadiji, shared an advertisement for a postgraduate engineering position at the Postharvest Technology Laboratory. So, I applied for the position since the advertised topic aligned perfectly with my research interest (ThermoFluid, CFD)."
His research topic was Exploring next generation packaging systems in a refrigerated container using CFD Modelling. He elaborates briefly: "The ineffective utilisation of refrigerated container's space is a pressing problem for the South African fruit industry. Current packaging systems do not optimally make use of the refrigeration unit for airflow distribution and cooling efficiency of fruit. This results in heterogeneous airflow circulation and ineffective cooling of fruit. The aim of my research was to develop innovative packaging systems for container space utilisation and cooling efficiency using Computational Fluid Dynamics (CFD)."
Mr Tiamiyu enjoyed his experience as a postgrad student at Stellenbosch University. He says: "I enjoyed the whole journey. I must admit it was quite difficult to settle in at the beginning because of culture shock, but after settling in well, the journey was a smooth sail. The International student society of Stellenbosch University makes it more interesting because it avails me the opportunity to meet and discuss with people of diverse backgrounds."
His research was a perfect example of interdisciplinary cooperation (between the Departments of Mechanical and Mechatronic (M&M) Engineering and Horticultural Science (Postharvest technology). Prof Corne Coetzee of M&M was his supervisor, and Dr Tarl Berry, Prof Umezuruike Linus Opara and Dr Alemayehu Ambaw Tsige the co-supervisors. This interdisciplinary approach most certainly broadened his horizons as he notes: "Now, I am more conversant with the interdisciplinary connection between mechanical and all other forms of engineering."
Being away from home during the Covid-19 pandemic understandably brought about many challenges for the young man from Nigeria. "The total lockdown period was a very weird and lonely period for me, because I couldn't visit friends and I was very far away from my family. I adapted to the new reality whilst trying to work on my thesis."
Mr Tiamiyu is quite clear about his future plans: "My immediate plan is to pursue my PhD study. My future plan is to pursue an academic/research career and have my own research laboratory to work on weirdly cool stuff."
Photograph: Nurayn Tiamiyu.