The Faculty of Engineering
One of Stellenbosch University's flagship faculties and is one of South Africa's major producers of top quality engineers.
The world-class engineers we produce contribute to the economic development of the country and improves citizens' quality of life.
In addition, our outstanding research and consulting services add value to industry, and substantially supplement our funding streams.
T​he Faculty was established in 1944 and is housed in a large complex of buildings with modern facilities.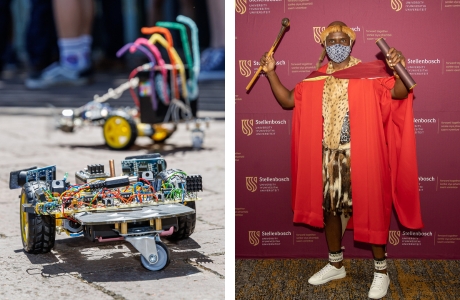 Our faculty has 5 departments:
Electrical & Electronic Engineering
Mechanical & Mechatronic Engineering
News and media relevant to the Faculty

[Graduation Spotlight: Murray Bester, BEng in Mechatronic Engineering] A final-year, undergraduate student from the Department…
---

[Graduation Spotlight: Takunda Gwanzura, PhD in Electronic Engineering] Takunda Gwanzura was only 15 years old…
---

[Graduation Spotlight: Ella Gardiner, BEng in Mechatronic Engineering] Goldieblox® is an American company that was…
---
Stellenbosch University's on-campus (in-person) Open Day took place from 08:00 to 15:00 on Saturday, 6 May 2023. You can still access the
SU's Open Day
page which serves as a one-stop shop to get all the information you need about our institution. Be proactive and visit the site to learn more about our study programmes, admission requirements, accommodation, financial assistance and more.
Stellenbosch University's Engineering Winterweek aims to give high-school learners (gr 11's and 12's only) a glimpse into the engineering profession and into the life of an engineering student at one of the country's best universities
Visit the Winterweek website to get a glimpse of the offerings.
📹 Tune in to find out why studying at SU's faculty of Engineering will be an opportunity you don't want to miss out on.